The Happy Bay News
The Happy Bay News initially started as an idea for the Hawke's Bay community. Together with FOTO IWI Charitable Trust and local rangatahi the concept was to produce a casual printed magazine focusing on local people and good news around our city. The name was put forward and the idea went from there.
Rangatahi contribute by way of images, illustrations, planning and ideas bringing their voice and viewpoints to the final publication.
Now into the fourth edition this publication is reaching across Napier, Hastings and Central Hawkes Bay with a growing team of 10 students, keen to seek out people and stories on people doing great stuff in their community.
Highlights have been Mia aged 14 meeting Enid aged 90 as part of a story on cycling for aged,Tobey, (15) covering Tim a local competing in the Special Olympics and Chris ( 150 covering the couple behind Duck Day in Waipawa, raising money for Ronald McDonald House, and many more uplifting stories of local often unnoticed, community heroes.
Every story, this young team gains a skill in some way, from confidence building through to belief in self and team work, mentored by Trust manager and Facilitator, Shayne Jeffares.The last edition was circulated into Local Council Senior Housing as well as libraries, community hubs, some schools and local cafes; a total of 8,000 copies have been circulated so far.
Planning for the next publication in a 'cafe style' with participating cafes having these in their businesses to reach more people in the community, and attract small advertising to offset some promotional costs. 2024 the plan is to provide more platforms for rangatahi to connect with the community around them, work alongside others and learn new media skills, as well as bringing their own ideas to this youth focussed project.
Ideas such as podcasting, video production and editing and live event coverage will allow for the team to grow into other media areas giving valuable skills for creativity and future career pathways.
Happy Bay News is online at www.happybaynews.co.nz as well as Instagram and Facebook.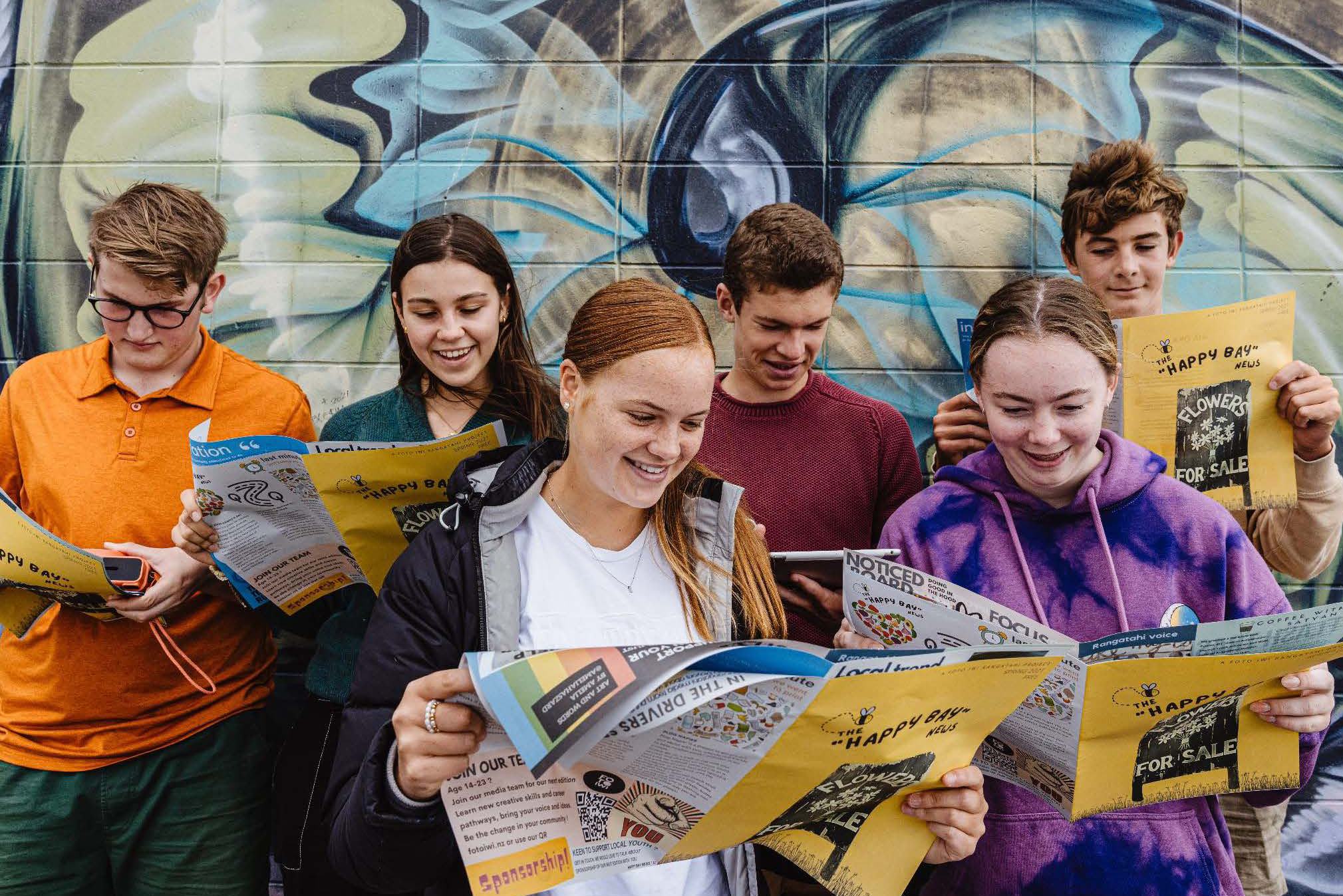 Photo: The foundation team in 2021, Image credit Napier City Council.