The Wellington Multiple Sclerosis Society
The Wellington Multiple Sclerosis Society (WMS) is very grateful for the wonderful support it receives from Trust House Foundation to support its work in the Wairarapa.
"We are very grateful to Trust House Foundation for their continued support, which enables so many aspects of our vital Community Advisory Service" said Shona Daubé, who is the Community Advisor for the Wairarapa.
Last year, Trust House Foundation granted $800 earmarked for the purpose of mobile phones that allow the society's three Community Advisors and the Communications & Fundraiser to deliver services in the community, which in turn frees up funds that would otherwise be needed for office space, equipment and services.
The Community Advisory Service operates across the greater Wellington region, empowering people with MS and their Whānau to live their best lives. WMS do this by supporting people with MS and their whanau so they know what to expect, what the treatment or management options are and so people always have a friendly ear to listen.
This year, Trust House Foundation funding has come through for WMS again by providing a grant to help cover the operational costs support the Wairarapa Community Advisory Service and partial funding towards a replacement vehicle.
"Trust House Foundation is helping us to enable and support people with MS in the Wairarapa. We can't thank them enough for the support they offer, which allows us to deliver the services people want and need in the Wairarapa community", says Shona.
More about the society on their website here: www.mswellington.org.nz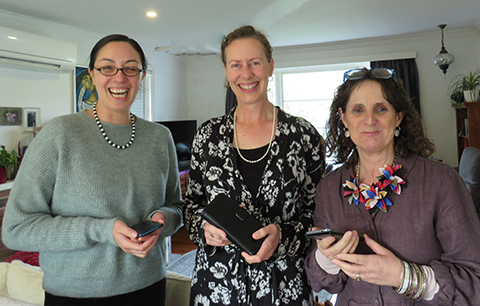 Photo Caption: Community Advisors Lacey Reedy, Gillian Fry and Wairarapa Community Advisor Shona Daubé with their work tools – their mobile phones, which were funded by Trust House.