Mākoura students on the tools for homeless
A Masterton secondary school is giving students a head-start in the construction sector while at the same time providing some much needed help for homeless people.
Seven Mākoura College Year-13 students are on the tools building three transportable cabins that when finished will be donated to Project Manaaki, a Masterton initiative that is providing transitional housing for homeless.
Joint Head of Technology at Mākoura College, Tori Forrester, says the project is a "fantastic" way for the students to get a hands-on insight into a possible career in construction.
"I would like to think that at least half of these boys will gain the confidence from this to want to maybe consider a career in the trades," Forrester says.
"It will give them a foot in the door and a head-start in an apprenticeship."
The in-school programme is NCEA Level-3 BCITO, (Building and Construction Industry Training Organisation), accredited.
Forrester says the project is only possible thanks to a $30,000 grant from Trust House for all of the materials and equipment associated with the build. It follows a $97,000 grant from Trust House last year for Project Manaaki to help fund the refurbishment of the Elizabeth Street property in Masterton which now has capacity to accommodate nine people in transitional housing.
The three 3.6metres by 2.4metres cabins when completed will be relocated to Elizabeth Street to sit alongside other cabins at the rare of the section or to another property.
One of the students, Louie Manesa-Anae says it is doesn't seem real that there are homeless people living in Masterton.
"It's really cool that we are able to do something to help them," Louie says.
While none of the students know directly anyone living rough, in a car or "under a bridge", all are aware of people living in a converted garage.
"It can be pretty cold in a garage, specially in winter," Louie says.
Although basic and without plumbing, all of the cabins will be fully insulated and feel homely when finished.
Forrester says the project was a little overwhelming for the students to begin with, but now that it is taking shape they are "really getting into it".
"We are determined to have all of the cabins finished by the end of the academic year."
This will be the ninth year that the Mākoura College technology department has undertaken a building project. In the past it has focused on a single building, which when finished was sold off to cover material costs. However, last year the disruption of Covid early in the academic year put the kibosh on a build.
"With the help of Mason Cameron from Cameron Construction we got this going. It is great for the students to be gaining some practical experience and at the same time be doing something for a really good cause."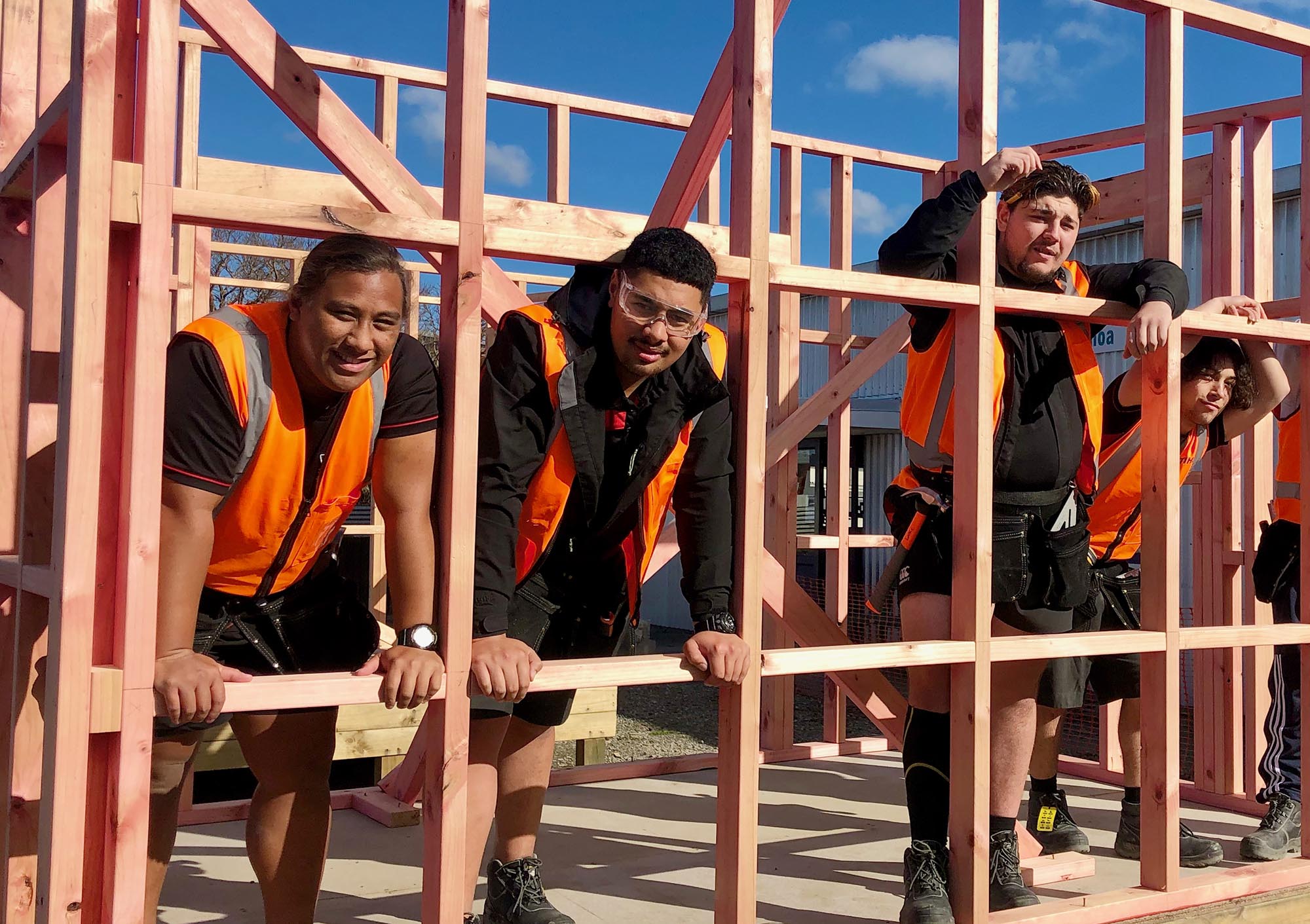 (From left) Louie Manesa-Anae, Taofiga Manesa, Luke Rogers and Tama Anderson are looking forward to getting back to school and continuing with their building project.