Driving just got a whole lot more fun for staff and students of Lakeview School in Masterton.
Previously faced with the growing uncertainty of whether or not their old Transit Custom van was going to make it through the journey, now they will be riding in style in a new 12-seater Toyota Hiace.
The school recently purchased the brand new van thanks a $19,000 grant from the Trust House Foundation.
Principal Tim Nelson says the Board has been putting money aside each year to help fund a new vehicle, but the grant from the Trust House Foundation has enabled them to speed things along.
"At the rate we were going it would have been a few years before we had enough money," he says.
"It's also meant the difference between buying a brand new vehicle or settling for another second-hand one."
The new wheels couldn't have come a moment too soon, says a senior student, Sam Whitehead-Kai.
"The old van just had no grunt," he says.
And worse, the late 1990s model had a growing tendency to stall at the most inconvenient moment.
"It was becoming really embarrassing . . . and it would spew out smoke sometimes too," says another student, Zane Apiata.
Another one of the Transit's non user-friendly traits was a habit of randomly not locking, and also not unlocking!
Mr Nelsen says the nature of their school and curricular programme means that there are plenty of occasions when students are required to travel during school hours.
"With the previous van, reliability was becoming a real issue. So to have a brand new vehicle that we know is going to get us to and from events without stopping is a big relief, and also really exciting," he says.
"The ability to be able to move a group of kids to the place we need them to be safely and in comfort is wonderful," Mr Nelson says.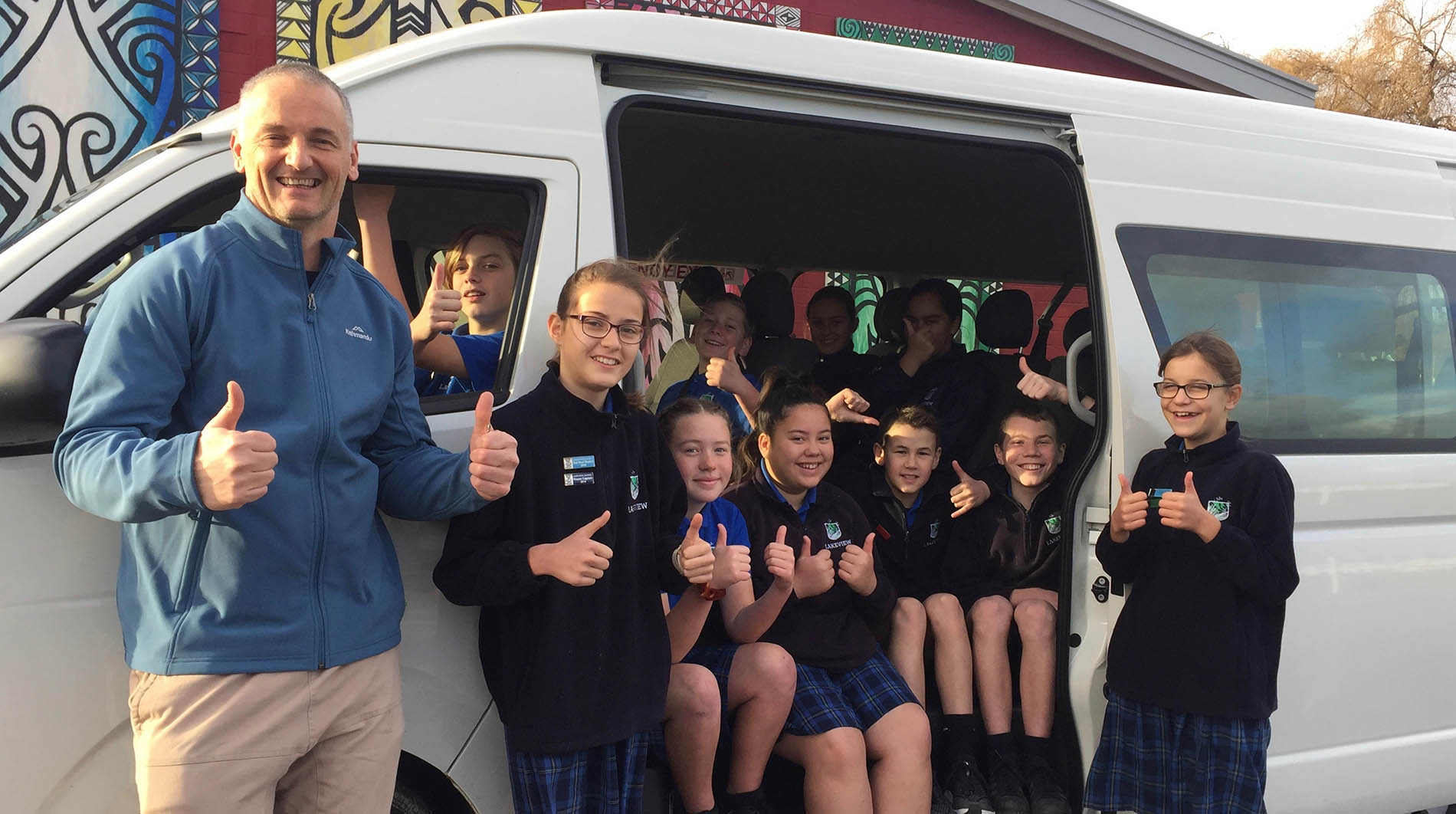 Lakeview School students, and principal Tim Nelson, give the thumbs up for their brand new Toyota van.