If a dog barking in your neighbourhood is driving you crazy, spare a thought for the staff and volunteers at the SPCA centre. And pity all the other animals at the shelter too.Anxious, confused or just hellbent on getting attention, when the dogs launch into full barking mode, not only is the noise deafening, it's also bad for human health. Imagine then the cacophony of jubilation from all and sundry at the Masterton SPCA Centre when confirmation came through that the dog area is to be fitted-out with noise proofing.The Trust House Foundation has approved a grant application of $11,000 to help lower the din at the facility on Ngaumutawa Road, at the south end of town.Centre manager Rebecca Johnston says the noise proofing measures include lining the concrete walls with sound absorbing material, lowering the ceiling, and installation of a new internal door to seperate the area from the rest of the centre. For Rebecca, her two part-time staff, and troop of volunteers, the news is music to their ears. "It's going to make a huge difference, for everyone," Rebecca says.Constant barking is unsettling for all of the animals in the centre, particularly other dogs which become stressed and this can lead to behavioural and physiological problems, she says.As a national organisation, SPCA transfer a lot of dogs between centres. A current resident at the Masterton centre, Mickey, originally from Gisborne, has recently been transferred from the Newtown SPCA Centre in Wellington which is "very busy" with lots of other dogs and also visiting public."He's much better suited to here where it is a lot less busy and we can keep a close eye on him, and hopefully manage to re-home him," Rebecca says.New Zealand's oldest and most recognisable animal welfare charity, SPCA provides a safe haven for sick, injured, abandoned and abused animals. All can be given a second chance through the SPCA's adoption programme."We want every animal to find the right home, so we will talk to people who are interested in adopting a pet to understand their particular lifestyle and needs."Christmas is a great time to adopt a pet, Rebecca says, but requires careful consideration. She encourages the whole family to go into the centre to discuss their options."If you are thinking of adopting a pet as a gift, it's a good idea to buy a voucher which includes everything that your pet will need, but without making a commitment to any specific animal. That way there are no surprises."Then, after Christmas, come in and choose the animal that you want."
For more details on adopting a pet through the SPCA, or if you are interested in becoming a volunteer at the Masterton centre, call (04) 389-8044.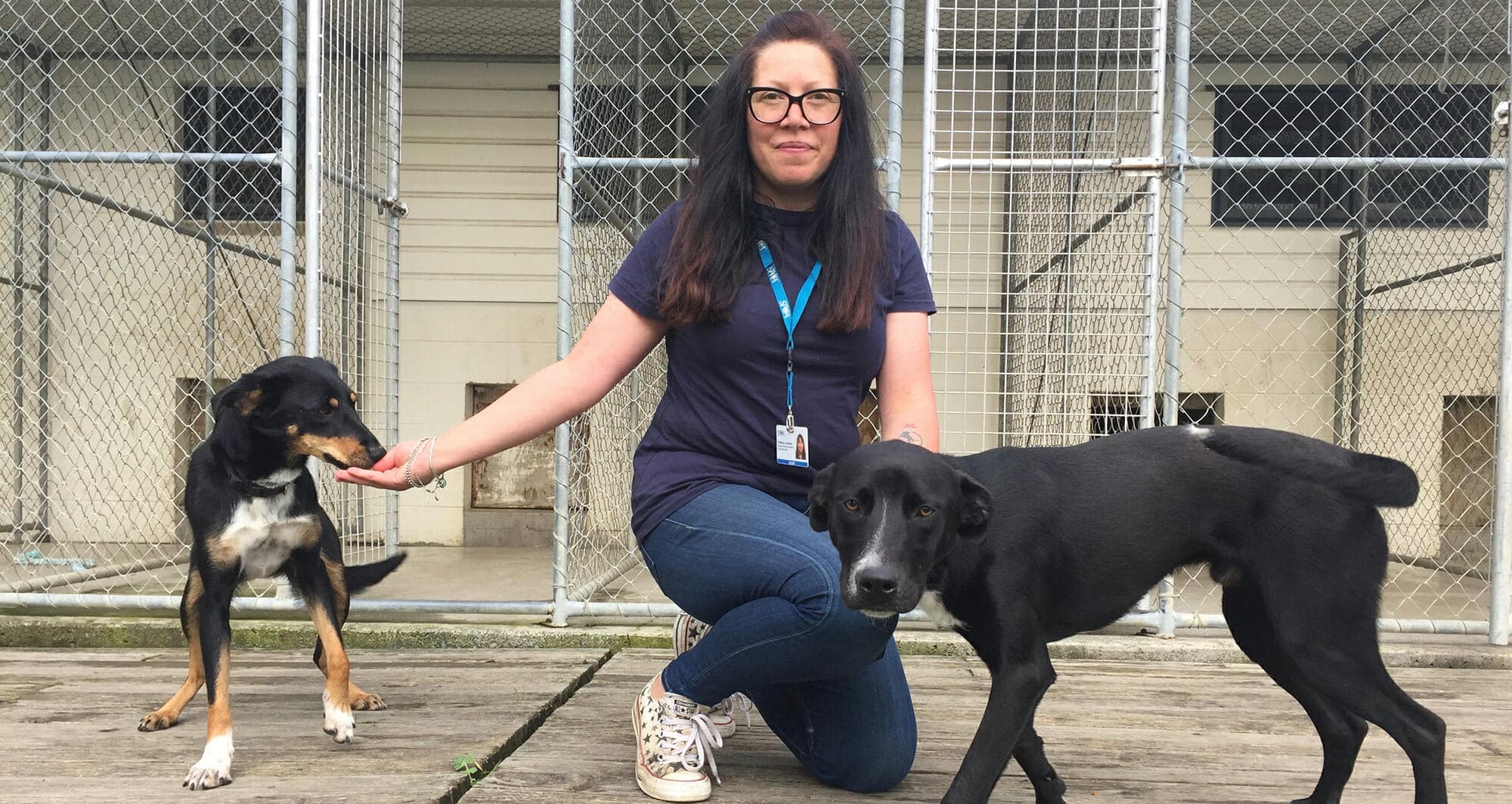 Masterton SPCA Centre manager Rebecca Johnston hopes Mickey and Fox will soon have a new home to go to.