Long gone are the days when tennis racquets were packed away at the end of season and left to gather dust over winter.
All-weather courts have turned tennis into a 12-month of the year recreation.
Wairarapa's tennis HQ in Masterton has eleven all-weather courts, and thanks to the organisation that bears its name will continue a programme of upgrading its facilities.
Trust House Masterton Tennis Centre president Ally O'Neill, says a $20,000 grant from the charitable trust will help resurface courts 7 and 8 at the Dixon Street facility.
The grant follows a significant contribution from the community-owned organisation two years ago that helped fund the installation of flood lights and the resurfacing of five courts.
Mr O'Neill says tennis has been well served by Trust House over the years and the club is extremely grateful for their on-going support.
"We certainly feel very lucky, and believe that it is money well spent," Mr O'Neill says.
"Tennis is one of those games that embraces all age groups, and this club in particular is well served in that regard."
The tennis centre moved from grass courts to artificial 20 years ago. While the artificial courts behave a lot differently to the traditional grass surfaces, they offer many advantages. The most significant being that they are not impacted by the weather.
"The drying time for these courts is just amazing, and if the surface is a bit wet you can still play without the risk of slipping," he says.
The turf surface is comprised of polyethylene grass fibres infilled with a specially graded sand top dressing. The sand helps the surface hold firm.
The surface is slower and more forgiving, much like a clay court.
As the "home of tennis in the Wairarapa", the Masterton Tennis Centre has worked hard in recent years to support, strengthen and promote the game in the region, Mr O'Neill says.
Maintaining facilities that are of a high standard has been a big focus, he says.
Key also has been offering a diverse range of activities to cater to everyone; including business house, veterans, inter-club competitions, family sessions, junior development and coaching and social level.
The "business house" competition has proven very popular with upwards of 80-90 players involved on Tuesday nights.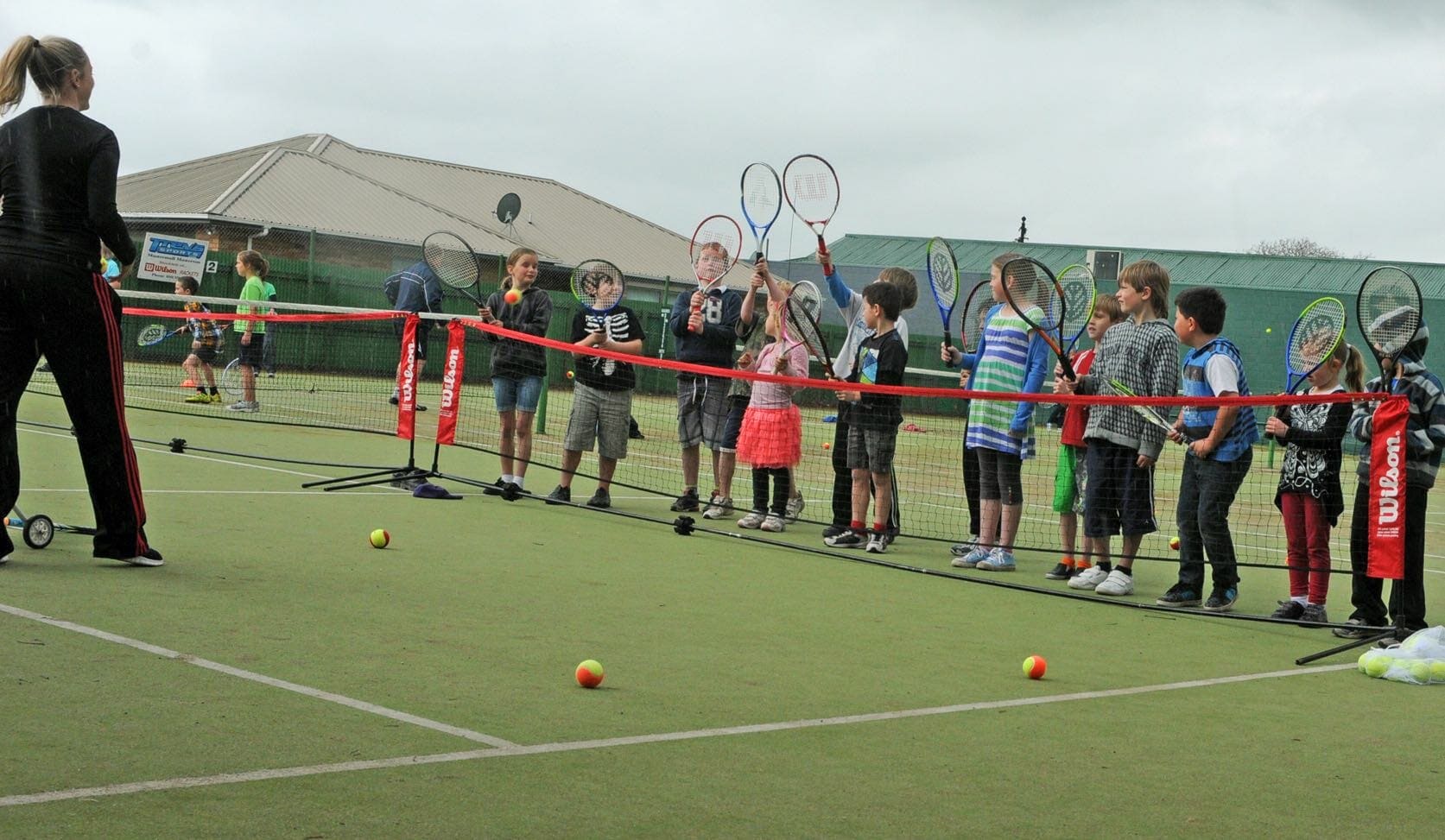 Kids enjoying a lesson on one of the all-weather courts at the Masterton Tennis Centre.