An old favourite is set to return to the miniature train track in Masterton's Queen Elizabeth Park.
A hit with the young and old for several decades the steam engine was lifted off the tracks in 2008 for repairs and maintenance. It hasn't returned since.
All going to plan the locomotive is scheduled to be back pulling carriages of happy passengers in time for the summer, according to Masterton Miniature Train Society spokesperson Kim Siemonek.
The society has recently been granted $10,000 from the Trust House Foundation to help fund the project.
The miniature train track, around an island in Queen Elizabeth Park, was built by the Jaycees in 1972. Complete with a steam engine, (originally from Gisborne), it became a popular attraction for residents and visitors to town.
A routine compliance check of the engine in 2008, spotted some issues resulting in it being taken out of service. A catalogue of challenges – including the requirement of a new boiler – have delayed the engine returning to duty. But, finally, there is light at the end of the tunnel for locomotive No.74.
"Basically we have had to fully rebuild the engine, and to get it certified takes a long time," Kim says.
Currently sitting in Ormond Engineering in Edwin Feist Place, the steam engine is close to being ready to resume work again, with one final push for funding needed.
All up the society have spent around $75,000 on the project, $20,000 of which has come from Masterton District Council.
It is money well spent given the level of interest in the Masterton Miniature Railway, locally and nationally, Kim says.
"We have multiple generations of people coming back to Masterton just to go on the train, as they did when they were children," she says.
The red diesel engine that currently works the tracks does a "brilliant job", and will continue to do so.
"There is something really special about a steam engine though. When people see the steam they come running over . . . it creates a sense of real excitement."
Masterton Miniature Railway Society president Gary Esler, has been involved with running the train for nearly 40-years. The steam engine is undoubtedly the hero of the set-up, he says. It is the genuine article working to exactly the same principles as a full-size steam engine.
Gary says locomotive No.74 is the biggest miniature steam train working in the Southern Hemisphere.
"It's taken us a number of years to get it back to this point, but we feel it has been worth it," he says.
Steam or diesel, the miniature train is a popular attraction at the park carrying between 25,000 and 28,000 passengers per year. Expect passenger numbers to rise when the steam engine is fired-up again, Gary says.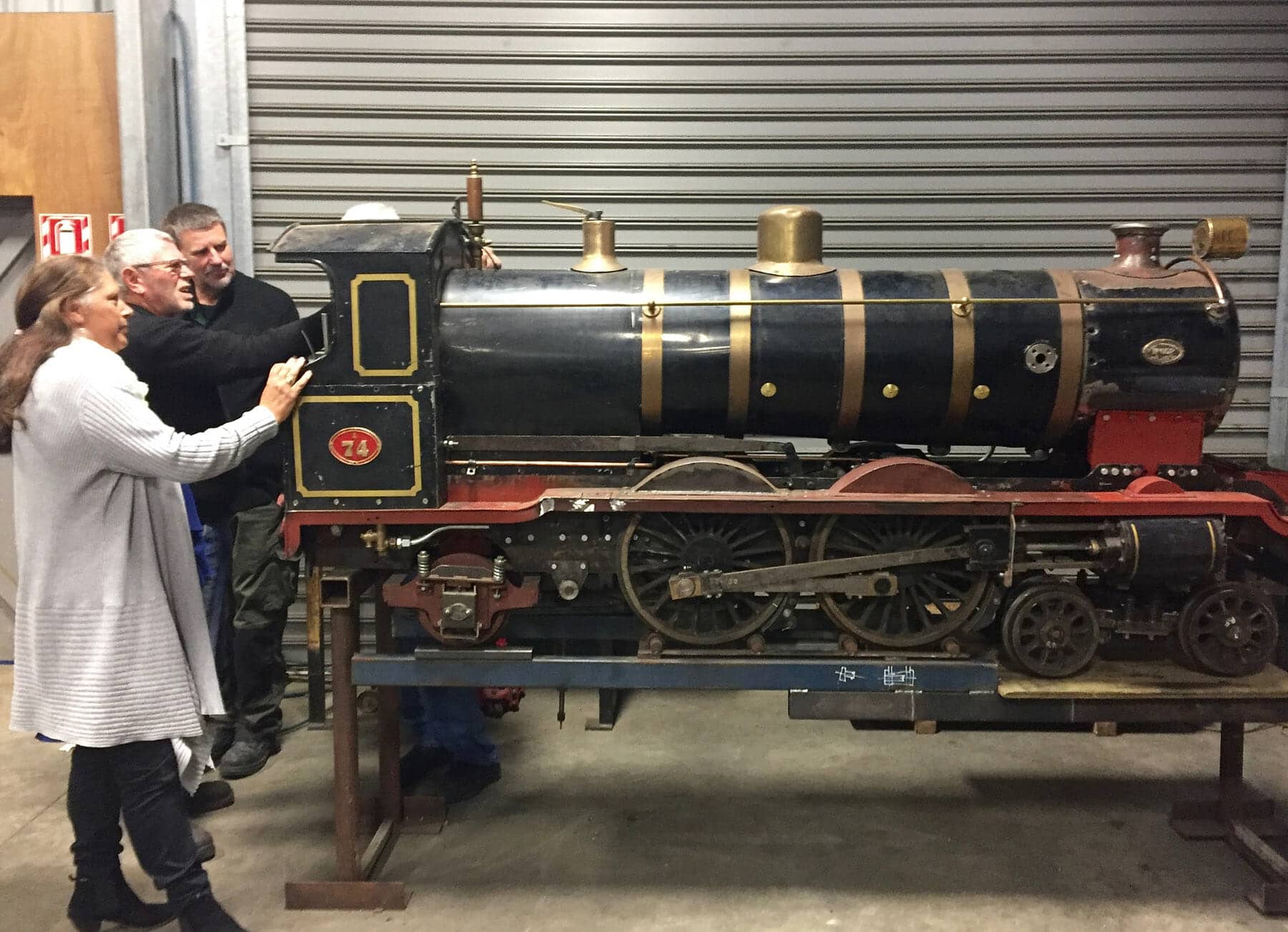 Masterton Miniature Train Society members check out the steam engine, currently sitting in a Masterton workshop.