Connecting Communities Wairarapa (CCW), formally Masterton Safe and Healthy Community Council, is a not-for-profit charitable trust. Its aim is to facilitate community wellbeing and resilience and support environment based projects that involve the local community.
CCW has been supporting community activities since its inception in 1995.  It has a small team of community development and neighbourhood support people backed up by a management board and several support staff, a number of whom work part-time from an office at the Community Centre, 41 Perry Street, Masterton.
Some activities that CCW is actively involved in include:
Neighbourhood Support.
Strengthening Families.
Community Development.
Youth Development.
Junior Neighbourhood Support.
Te Awhina Cameron Community House.
Developing Neighbourhood Plans.
Funding comes from Masterton District Council, the Ministry of Social Development, NZ Lotteries Commission and various other grant providers, including Trust House Foundation.
A recent Trust House Foundation grant is being applied to youth development.  This will enable CCW to support and provide resources for events that give youth the opportunity to showcase their talents. Last year Trust House provided $6,000 to assist in the running of the Junior Neighbourhood Support programme across the Wairarapa. This programme has seen a steady increase in the number of participants with around 1500 children engaged in a number of activities including talent shows and Keep NZ Beautiful.
These funds assist CCW to provide and implement these and similar programmes, making the Wairarapa more community focussed and a much better place to live, work and enjoy.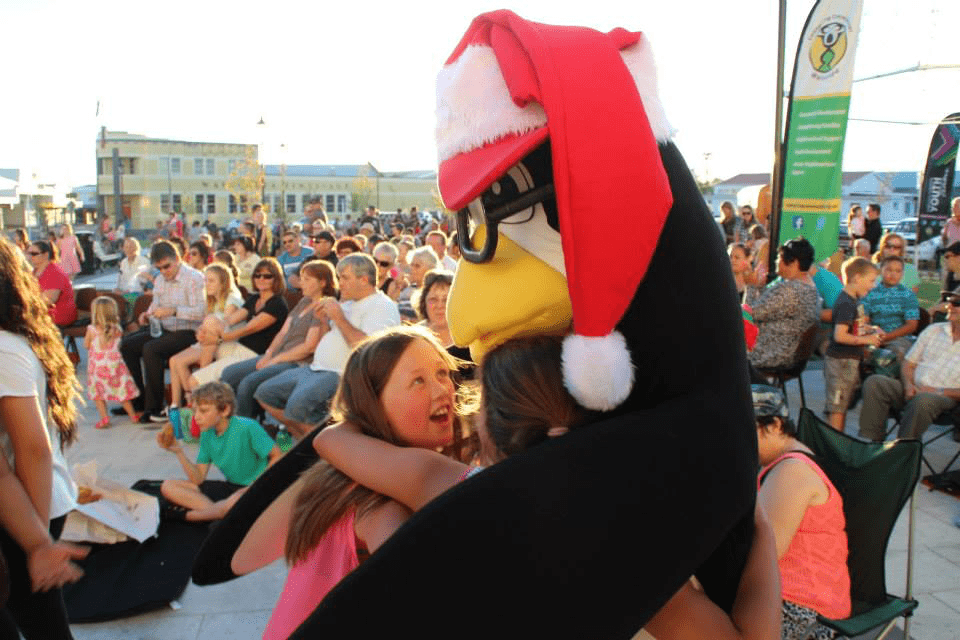 Families enjoy a Connecting Communities Wairarapa Junior Neighbourhood Support concert at Civic Square, Masterton, along with their mascot 'Sparky the Penguin.'