StarJam is proving to be life-changing for some of Wairarapa's most vulnerable citizens and their families.
Through music and performance workshops, StarJam provides opportunities for young people with disabilities to explore their talents, gain new skills and build confidence to try new things.
Launched in 2002, StarJam runs over 40 performance workshops around New Zealand, predominantly in main centres.
Wellington Regional Programmes Coordinator, Nigel Martinez, says for some time now the not-for-profit organisation had recognised a need for its workshops to be rolled out to the smaller regions where young people with disabilities are sometimes lacking the recreational outlets available to their city-based counterparts.
With support from the Trust House Foundation, and other organisations, StarJam successfully launched in Wairarapa earlier this year both a dance workshop and a singing workshop. The Trust House Foundation is continuing to support the initiative confirming a second grant of $5000 in their recent funding round.
Wairarapa StarJam meets every Monday from 6.30pm-8pm at Lakeview School in Masterton running two programmes: Spectacular SingStars focuses on singing, while Magical Movers workshop is oriented for dancing.
Nigel says, for new 'Jammers', StarJam has been life-changing with a number of them enjoying their first experience of being part of a group that's tailored to their needs, interests and capabilities.
Carterton mum Anita Nicholls says she was very excited when she heard StarJam was to start up in Wairarapa. Previously living in the Hutt Valley, her son James was a regular at singing workshops.
She describes StarJam as a "little social community of families" who without it could easily become isolated.
"I don't think there is anything else like StarJam. It is often hard to access music activities that James fits in with . . . at StarJam he is part of the group, and has the confidence to stand up and perform in front of everybody," she says.
James was non-verbal until he was 6-years of age, so to be part of a singing group is in itself pretty incredible, Anita says.
"What is so magical about StarJam is that any performance is acceptable – at StarJam there is no such thing as a 'bad performance'. The tutors are good at being very flexible, and follow the lead of the people who are part of the group."
Thriving in the StarJam environment is 13-year old Alex Walsh. His mum, Heather, says Alex loves music and performance, so not surprisingly the workshops are a weekly highlight.
While mainstreaming children with disabilities is positive, Heather says it is just as important that they also have the opportunity to mix and socialise with "like-minded" people.
"StarJam has just been a wonderful social outlet for Alex where he has been able to make new friends. It is so lovely seeing them interact together, and to watch them because they are all so supportive of each other."
The workshops also enable participants to practise so many new skills, including fine motor and gross motor skills, Heather says.
"It gives them a chance to learn social skills, how to co-operate with each other . . . I think it is just amazing."
The 90-minute evening workshops each have places for 12 Jammers (aged between 6 and 25) and are led by a StarJam Tutor and at least two Volunteers. All young people with disabilities are welcome irrespective of their disability
If you are interested in getting involved in StarJam's workshops, contact Nigel Martinez at wellington@starjam.org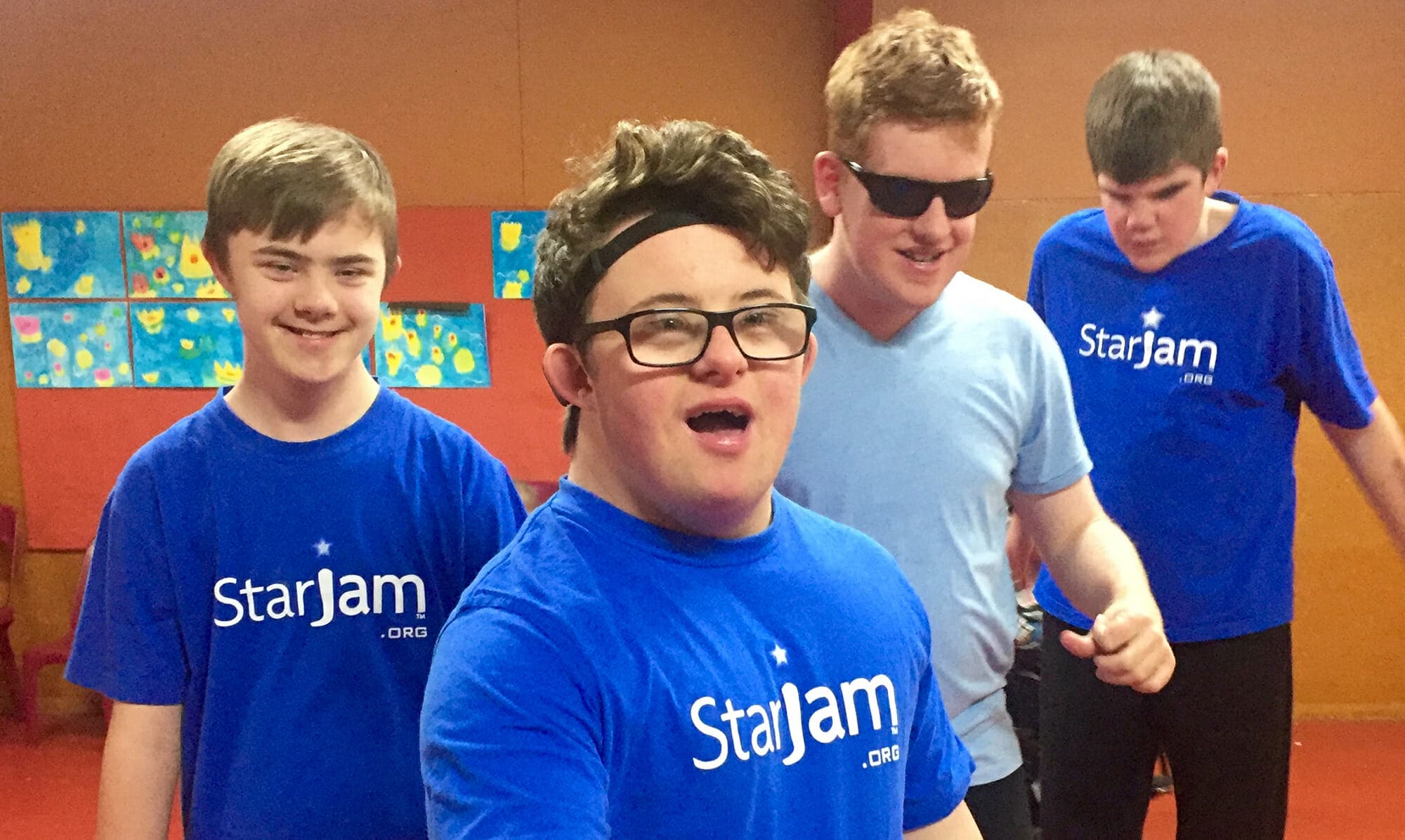 (From left) Alex Walsh, Paddy Davis, James Hollis and Taylor Moore are part of the group of Spectacular SingStars who meet every Monday night for a StarJam workshop.