A Wairarapa winter sports tournament for Year 7 and 8 students has the potential to attract schools from all over the lower North Island.
Organisers of the inaugural Wai Games, scheduled for the Term Two school holidays in July, believe the region has the facilities and infrastructure to successfully host such a tournament annually.
Trust House is backing them, with a grant of $8000 to help with the set up costs. Wairarapa REAP is providing administrative support and creating a dedicated website.
Modelled on the annual AIMS Games, Masterton Intermediate School principal Russell Thompson says the Wai Games is in no way looking to rival the hugely successful Tauranga-based event.
"We are trying to add to their concept, rather than compete with or replace it," Mr Thomspon says.
"Some schools may use our tournament as a way of preparing for the AIMS Games."
Mr Thompson says he has spoken to one of the key instigators of the AIMS Games,  Tauranga Intermediate principal Brian Diver, and he is "very supportive".
Held at the end of Term Three in September, the AIMS Games last year attracted over 10,000 athletes competing in 21 sports codes.
Mr Thompson says these are numbers way beyond what the Wai Games is envisaging.
"While we are really keen to ensure that there is high quality competition, we want our tournament to also have a be big emphasis on giving all of the kids involved a really good experience."
This will include an official opening ceremony involving all participants.
Initial interest is expected to come from Wairarapa, Wellington and Hutt Valley schools.
"In time, we believe that it could grow substantially and become a key date on the calendar for intermediate schools all over the lower North Island."
Starting with football, hockey, netball and rugby tens, others codes will be added as the tournament becomes more established.
Wairarapa is well suited to hosting such an event with a number top class facilities for the four codes. Hockey will be played at Clareville, netball at the newly developed Colombo Road courts, and rugby at Memorial Park. Notably, Trust House has contributed significantly to all three venues in recent years. Football will be played at Rathkeale and Wairarapa College.
The tournament will be held in week two of the holidays, Monday 16 July to Thursday the 19th. The advantage of scheduling in the holidays is the availability of hostel accommodation at the colleges, (Rathkeale, Solway, St Matthew's Collegiate and Wairarapa College).
Another advantage is that schools will not need to pay for relievers to cover teachers who are coaching or managing teams, and it is a lot easier for parents to attend tournaments during the school holiday break. The school holidays also frees up the availability of college students as referees or umpires.
In addition to the boarding facilities at the colleges there is also ample accommodation in Masterton to host visiting teams and supporters.
For more information contact Trudy Sears at Wairarapa Reap, 021 239 5520, or visit the website waigames.waireap.org.nz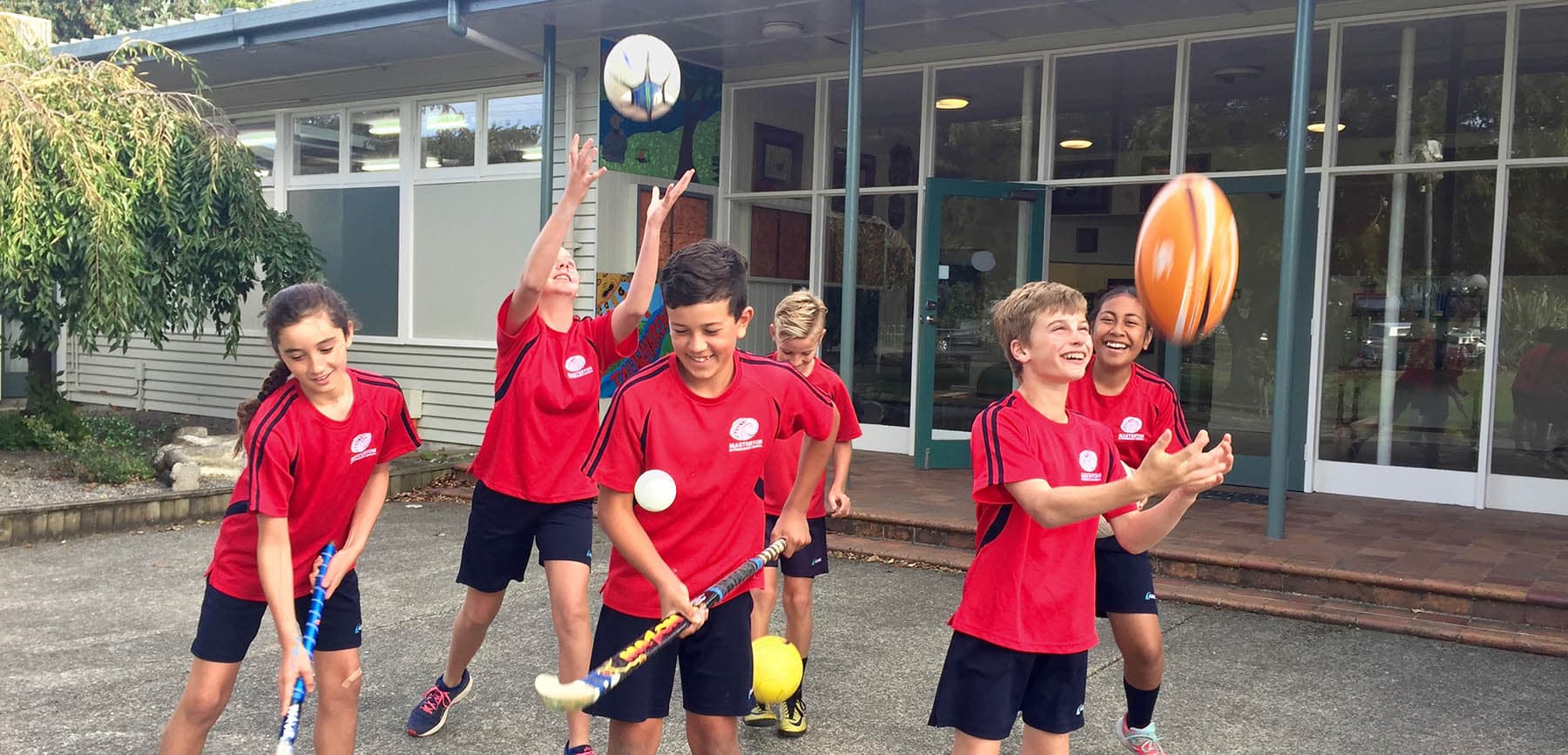 Getting excited about the Wai Games are Masterton Intermediate School students (front), Maia Harwood, Cohen Scott, Sam Jonas, (back) Holly Simpson, Jayden Fennell and L'Oreale Neemia-Phillips. Hockey, football, netball and rugby will all be contested at the inaugural tournament in July.