A Carterton aged-care provider is a step closer to building a dedicated dementia facility capable of servicing southern Wairarapa.
Currently there are no dementia beds in Greytown, Featherston or Martinborough and only limited capacity in Carterton.
In responding to the need, Carter Court is building a new 12-bed dementia facility by renovating and upgrading an existing wing at the Pembroke Street complex.
Wairarapa is currently 13 dementia beds short of what is required and the addition of these beds, which are located at the mid-point in the valley, will be of great assistance to families, seeking high quality specialised elderly care, says manager Rae Andrews.
It is anticipated once the facility is established, Carter Court will also be able to offer short term respite care for dementia patients.
A recent $50,000 grant from Trust House Ltd means that funding for the project is now over the half-way stage.
"We are just so grateful to Trust House, $50,000 is a significant and generous grant and is a substantial contribution to our fundraising project," Mrs Andrews says.
The total cost of the project is $358,000, and subject to funding, work is scheduled to get underway by the end of this year.
The new build will incorporate some of the existing external environment made up of established gardens and an orchard. There will also be a landscaped/scented circular walk, which is important for dementia sufferers as it provides a point of orientation and thus reduces anxiety and associated agitation, Mrs Andrews says.
According to 2015 statistics there were around 53,500 people living with dementia in New Zealand. In the absence of a cure this number is expected to nearly triple by 2050.
Dementia is an umbrella term used to describe a group of conditions that affect how well our brains work. It can affect anyone, and as people get older the chances of developing dementia increase. The most common form of dementia is Alzheimer's disease – which around two-thirds of people with dementia have. The most common dementia symptoms include changes in memory, thinking, behaviour, personality and emotions. These changes affect a person's ability to perform everyday tasks and interfere with their everyday lives.
Mrs Andrews says currently there are residents at Carter Court who have an element of dementia.
"At the moment we can safely care for these residents, but once residents aren't safe in an independent environment they need to be in a secure facility that provides that additional care, safety and security.
Carter Court has been providing care for the elderly for over 100-years. The facility was originally established following a bequest from the town's founder, Charles Rooking Carter.
The Carter Court complex includes 41-beds, a busy Day Activity Unit and a number of self contained rentals and Right to Occupy villas on a site of approximately seven acres of park-like gardens.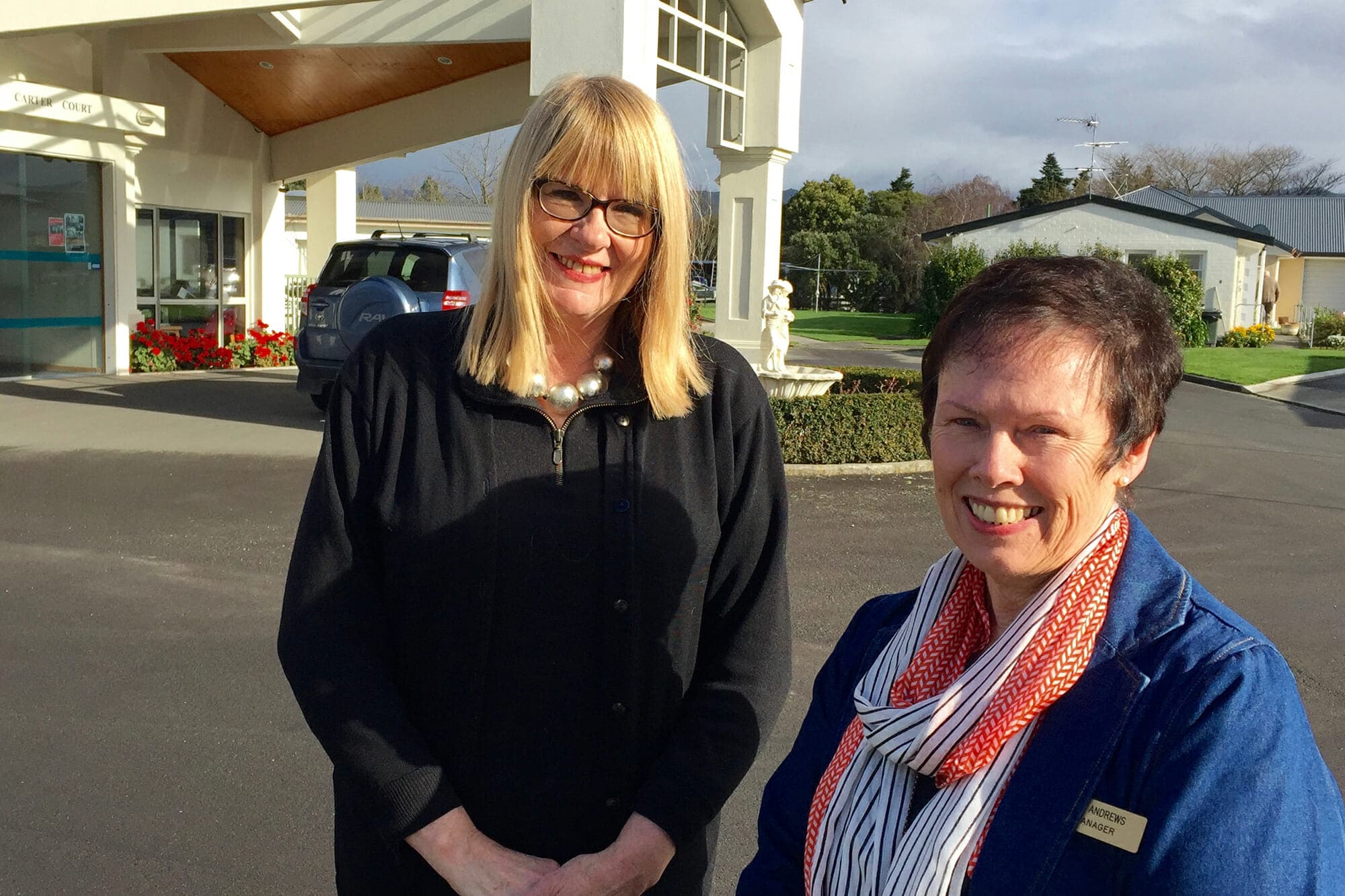 Carter Court Residential Home manager Rae Andrews and fundraising coordinator Anne Hannah