Trust House Ltd is responding to a growing shortage of affordable housing in Wairarapa, with a building project that got underway last month.
The Kuripuni Housing Regeneration Programme, at 83 Kuripuni Street in Masterton, involves replacing one existing three-bedroom house on a quarter acre section, with eight new fit for purpose units – six one-bedroom and two two-bedroom.
Costing around $1.2million, construction is scheduled to be finished in early December.
Trust House Ltd Chief Executive Allan Pollard says the initiative is a direct response to changing needs in the community.
"There is a real lack of suitable accommodation for single people, or people with perhaps one child, who would currently have to rent a three-bedroom house," Mr Pollard says.
The current housing shortage has been compounded by a growing number of people moving into the region from Auckland and other parts of New Zealand, Mr Pollard says.
"The simple fact is, there is not enough supply, and we see there is an opportunity for us to provide more housing for those people in the community most in need."
Mr Pollard says the project is probably the first of a number of regeneration programmes that Trust House is looking at over the next few years.
Trust House owns and manages almost 500 rental homes in Masterton, Martinborough, Featherston, Pahiatua and Dannevirke.
Trust House Foundation Chairman Jock Kershaw says the project represents an exciting time for the organisation.
"I think the really important point about this, is that it is going to create more affordable housing opportunities for the people who really need it," he says.
"If it works well in Masterton, I would certainly like to see it repeated elsewhere," Mr Kershaw says.
Notably, the cost of the build is being funded through existing cash flow.
"The fact that we don't have to borrow money to do this demonstrates the organisation's very strong balance sheet," Mr Pollard says.
Trust House is working with Christchurch-based RM Designs on the project. Holmes Construction is the lead contractor.
RM Designs have designed a number of high profile properties in Christchurch following the 2010/11 earthquakes. Some of the same processes used there, are being applied to the Masterton build.
The units will be made of Cross Laminated Timber and brought onto site to be installed in a few days. The roof will be a pre-insulated product (PIR Roofing) which will allow the units to be watertight very quickly.
The units will all have ceiling and wall insulation on a poured concrete floor with double glazing installed. Inside, all units will have a heat pump installed to ensure consistent heating in the homes, a separate hob and under bench wall oven with carpeting and vinyl throughout. One of the units is designated as an accessible unit with a wet floor shower.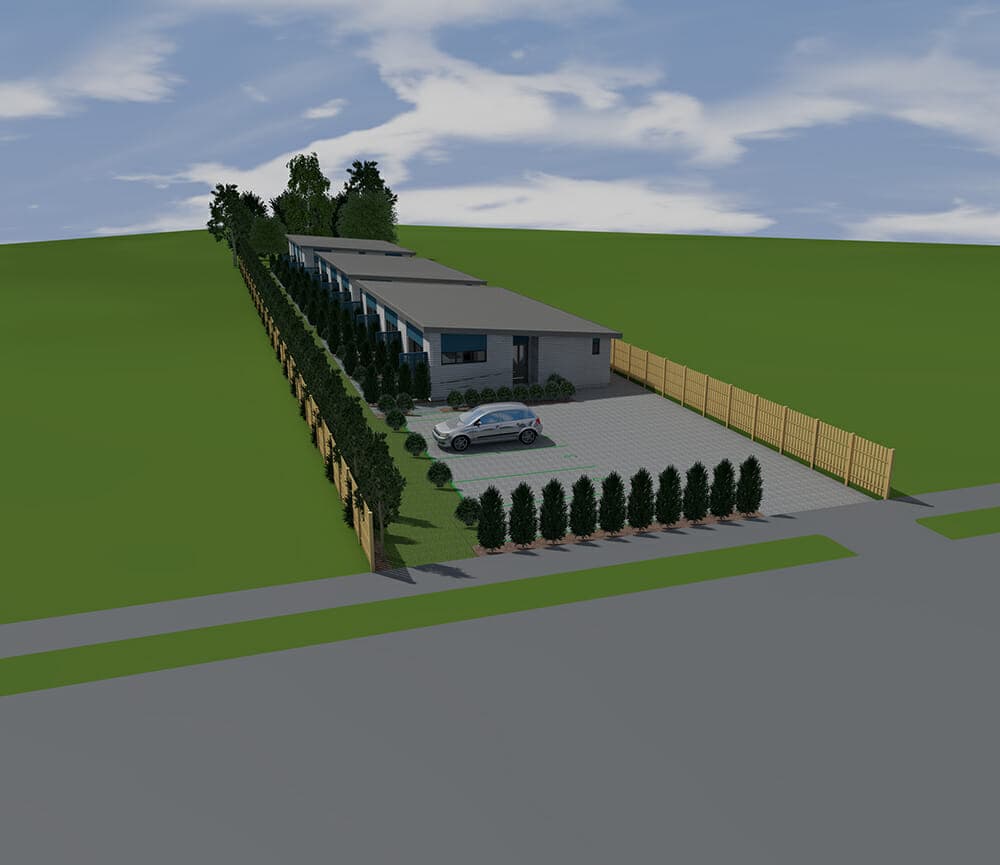 Trust House Foundation Chairman Jock Kershaw (left) and Trust House Ltd Chief Executive Allan Pollard at the building site on 83 Kuripuni St in Masterton.